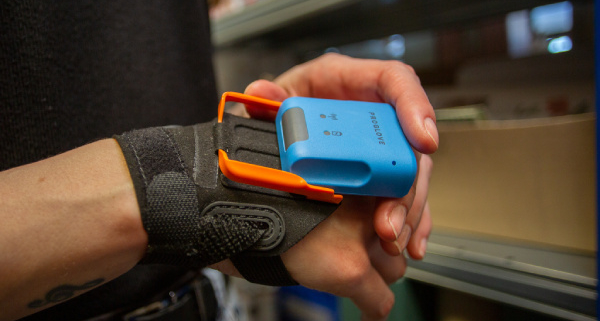 LEO is ProGlove's latest wearable barcode scanner. This entry-level product aims particularly at small and medium-sized enterprises (SMEs). LEO delivers immediate benefits and allows for an effortless transfer into the world of wearable barcode scanning with ProGlove.
The advantages of wearable barcode scanning with ProGlove are numerous. It ensures more efficiency, improves ergonomics as well as safety, and ultimately increases the process quality. This goes for ProGlove's MARK family of products, but the new LEO certainly makes no exception. These benefits stem from causes such as the fact that the employees' hands always remain free. Above all, this eliminates the time needed to pick up or drop off a scanner. While this time gain is valuable it in terms of efficiency, it also increases the workers' concentration and attention. Additionally, ProGlove's wearable barcode scanners significantly reduce the weight that workers have to lift. And finally, the optional Worker Feedback helps avoid typical picking errors.
LEO removes a psychological barrier
A look at the global market shows the massive potential. Experts say that the spending on mobile scanning solutions in 2021 amounted to $4.7 billion USD. This represents a growth rate of approximately 15.8 percent year on year. And the trend continues to go north. However, traditional scanner guns continue to make up the bulk of this growth. SMEs and cost-sensitive organizations are somewhat hesitant to make the switch. That is why ProGlove is now addressing this segment with the new LEO.
Something like a psychological barrier is at the center of this hesitancy. Many SMEs consider wearable barcode scanners to be a premium product. While a conventional scanner gun costs some $300 USD, wearable barcode scanners undoubtedly come at a higher price. Yet this delta is what often tips the scale. Consequently, some of these businesses opt for the clunky and unwieldy pistol scanners as they focus on the initial price point while disregarding the ROI. With the new LEO, ProGlove has finally put these sensitivities to rest.
Immediate efficiency leaps
Pricewise, LEO can definitely compete with common scanner guns. It reads all common 1D and 2D barcodes at distances between 10 and 70 centimeters. Ideally, the wearable barcode scanner will pay for itself within a few weeks. And even with only 300 scans per shift, the ROI margin is less than a year. That's because LEO delivers immediate efficiency gains by saving up to four seconds per scan. At only 35 grams, the new scanner is an absolute lightweight, capable of 4,000 scans per battery charge with less than an hour for a complete recharge. In addition, LEO can be updated "over the air" and easily connects to Insight, ProGlove's industry analytics platform. Thanks to the extensive integration portfolio, connecting LEO to other smart devices – such as tablets or smartphones – is a breeze.
Interested? Order your Open Beta Starter Kit today.
https://proglove.s3.eu-central-1.amazonaws.com/wp-content/uploads/2022/03/leo-page-image1.jpg
429
600
axel
https://proglove.s3.eu-central-1.amazonaws.com/wp-content/uploads/2019/08/proglove-logo.svg
axel
2022-04-29 13:32:45
2022-05-17 16:47:51
LEO From ProGlove Opens Benefits Of Wearable Barcode Scanning For SMEs