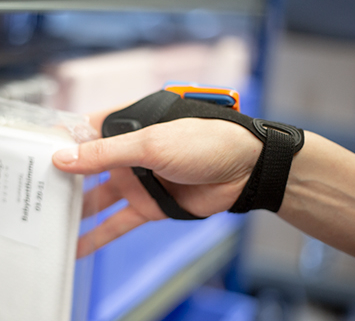 The Hand Strap addresses a common issue with workwear: In addition to enhancing dexterity, it also optimizes ergonomics. But above all, its one-size-fits-all approach alleviates the constant struggle to determine ongoing needs.
At the end of the day, it's always a problem of calculation. Unfortunately, standard sizes for industry wearables do not help to provide relief. Even more so when fluctuations are part of the daily business. Some organizations may have 300 employees on site in one shift and then again only 270 in the next. With that said, the question for decision makers has always been: How many wearables in size S, M, and L do we need per shift? The fact that not every tall employee necessarily wants to wear a large sleeve only complicates this matter further. They may have slender fingers or a slim palm for instance. In short, planning is not easy. Yet with the new Hand Strap ProGlove resolves this issue.
Thanks to its universal size, this wearable is a perfect match for all. A true one size fits all, if you will. Its elastic straps allow for easy adjustment. In addition, the Hand Strap provides several ways to fix which ensures a secure fit. That's crucial in an industrial type of environment.
The Hand Strap remains true to the ProGlove principles
The Hand Strap remains true to the ProGlove principles. It starts with our belief that a wearable scanner needs to sit at the back of the hand. This prevents unnecessary interference while full dexterity can be maintained. This is not only crucial for many activities, but also ensures the necessary wearing comfort. Yet the Hand Strap delivers another significant advantage in this context. The palms of the hands remain free to a large extent. This plays a considerable role everywhere where the temperature quickly causes perspiration. On the other hand, operators can effortlessly wear the Hand Strap as well as the Index Trigger over a work glove. After all, any glove can be a ProGlove.
No additional pads, triggers or cables required
In addition, at ProGlove we believe in minimizing the time and effort necessary to service and maintain our products. That's why the Hand Strap does not require additional pads, cables, or other add-ons. After all, these are always additional sources of error and abrasion. Above all, however, it is important to us not to restrict our users in their flexibility. That's why the Hand Strap works seamlessly with any ProGlove scanner. Just like the motto: latch on, scan, done.
Finally, in this pandemic-ridden day and age, it is important to emphasize that you can clean and disinfect the ProGlove wearables. We will be issuing a guide on this shortly. Which ProGlove wearable is right for you depends, of course, on your environment. You can find guidance about this matter here on our website. But of course we are also happy to help you in person. Simply get in touch with us!
https://proglove.s3.eu-central-1.amazonaws.com/wp-content/uploads/2022/03/Hand-stripe-1-1.jpg
350
355
axel
https://proglove.s3.eu-central-1.amazonaws.com/wp-content/uploads/2019/08/proglove-logo.svg
axel
2022-04-01 10:45:23
2022-04-01 10:45:23
The Hand Strap – A Real Game Changer In Wearable Barcode Scanning