Data is the force of business that sets the retail world in motion in the 2020's. Retailers are competing for shoppers' vital information to understand them better. Successful go-to-market strategies are now based on a solid foundation of data to anticipate shoppers' behavior and to create a more immersive consumer experience. Shoppers feel more included; they can influence product design, better customer services, and establish ever-closer relationships with their favorite brands. In return, they are sharing their personal data and feedback with those who earn their trust. Retailers are responding by providing their customers with an Omni-channel based data-driven retail model for a unified shopping experience, whether shopping online or offline.
Data That Reflects The Operational health of Your Supply-Chain 4.0
As retailers seek to understand shoppers through a data lens, they also need to gather extensive data from the supporting supply-chain for end-to-end visibility. Therefore, they are connecting a myriad of machines, devices and sensors to the Industrial Internet of Things (IIoT) to gather more detailed insights.
However, this is simply not enough. If they want to establish a definitive end-to-end data visualization they must connect their workers to the IIoT as well. By garnering worker behavior and activity data measurements, retailers can increase productivity and efficiency while also improving safety in the workplace. But, according to a Hubspot report, sponsored by ParStream, out of 86% of business stakeholders who claim that data is integral to their IoT project, only 8% are able to capture and analyze IoT data in a consistent manner.
Therefore, retailers need to empower their workers from the front-end to the back-end of the retail supply-chain with smart technologies that are simple to connect to digital networks, and provide bi-directional data to the workers & business decision makers automatically.
Supply Chain 4.0 for Retail

Supply Chain 4.0 is the highest maturity level, leveraging all data available for improved, faster, and more granular support of decision making.

McKinsey
Companies championing the use of customer analytics are:
6.5 times more likely to retain customers
7.4 times more likely to outperform their competitors on making sales to existing customers
nearly 19 times more likely to achieve above-average profitability.
 
McKinsey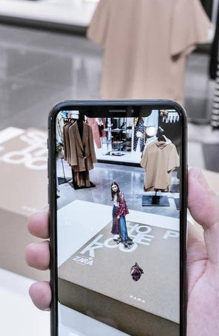 Human Workers have still got the edge over robots
The implementation of robots and AI in the retail supply-chain has been top-of-mind in recent years. However, the limitations of these technologies have become apparent in practice as they lack the speed of human adaptability, flexibility and versatility in rapidly changing situation. Humans have perfected these soft skills to be productive since time immemorial, and the need for them in business today has never been greater.
Welcome to the rise of the smarter workforce
 

You won't see robots in Target stores anytime soon, We really think, even in today's environment, where people are talking about AI and robotics and different elements of technology, the human touch still really matters.

 
Brian Cornell, CEO at TARGET (2019)
  
ProGlove data-driven workers wear technology and their data.
  
Innovation is now focusing on the power of the workforce, and how to empower the worker to play the leading role in digital transformation. By leveraging converging technologies such as Cloud, LTE, 5G, Wi-Fi 6, Bluetooth and Smart Wearables, market and technology leaders are connecting the workforce to the Industrial Internet of Things (IIoT) to gather valuable data and vastly improve companies data-driven retail strategies.
  
ProGlove Smart Industrial Wearables are emerging as a key technology to make this happen.
  
They empower the worker to get more done, they integrate the worker with the workflow to perform error-free, and they introduce hyper-efficiency across the supply-chain.
  
Our technology exists at the nexus point between the workers, their operational activities, and their company's digital networks. Data-Driven Workers wear technology and their data. The immediate proximity of the data to the worker enables better decision-making and greater mobility.
 

The key with the connected Industrial worker is to ensure they have the right information and the right technologies.

 

Michael Hobbs, Managing Director, Accenture Mobility.
Small Products That Make A Huge Difference!
To support your data-driven strategy we focus on making the retail supply-chain faster, more reliable and leaner. We inject greater speed into the chain by reducing workflow completion times, we increase its reliability by preventing workflow disruptions, and we keep the supply-chain lean by putting the right data at every point of decision. Speed, reliability and leanness accelerate the throughput of the chain.
At every step you will find barcode scanners in action, in-fact 'the ubiquitous beep of the GS1 barcode is heard at store checkouts 5 billion times a day'. And, this is only at checkout! Across the supply-chain stages of receiving, picking, staging, sequencing, assembling, packing, tracking & tracing, transportation, sales, pickup and service there are billions of additional barcode scans per day, all working towards achieving the holy grail in retail; putting the right products into the hands of happy customers', on time and cost effectively.
Click here to add your own text