When choosing a barcode scanning device you'll want to make it wearable. ProGlove's MARK family of wearable barcode scanners is popular for its ergonomics: a slim and lightweight scanner fits on the back of the hand so workers can keep their hands free (with full dexterity!) to address other tasks. There is no need to interrupt workflows to pick up and put down a separate – and potentially shared – device. This saves valuable time and effort. Plus, a wearable scanner doesn't get misplaced because it's worn on the body at all times.
Compared to a shared handheld scanning device, it's easier to avoid cross-contamination between workers with a personal wearable scanning device. This is important as the novel coronavirus, COVID-19, pushes health and safety to top of mind for every worker. While the compact scanners are sometimes shared between worker shifts, we recommend sanitizing them before sharing between employees. And for maximum safety, we recommended provisioning unique wearables to each individual employee. Our gloves come in a range of sizes for individual fit.
Further, managers should plan to replenish wearables on a regular basis depending on the work setting and frequency of use. Listed below are tips for choosing the right wearables for your operations, whether it's for logistics, manufacturing, assembly, e-commerce or healthcare applications.
Choosing the Right Wearable For Your Scanner
There are two options for wearables: glove wrap and clip reel. Both may be used interchangeably to mount the matchbox-sized barcode scanner of MARK 2, MARK Basic, and MARK Display. All options keep workers' hands free to address other tasks besides scanning.
WRAP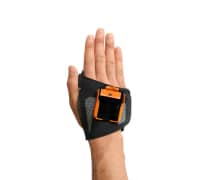 The Index Trigger wrap mount is the most popular. It's ideal for activities throughout the supply chain, from manufacturing and assembly to logistics and distribution to retail and e-commerce. The wrap may be worn over any type of glove or over bare hands to leave fingers free. The wrap includes a built-in index trigger to activate scanning plus a clip mount for the scanner. Wraps come in packs of 3 or 10, in sizes S, M, L with options for either a left-hand or right-hand trigger.
REEL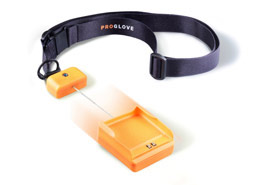 The reel is a one-size-fits-all clip mount (to clip at the waistband or pocket) or lanyard mount (to wear around the neck) with a housing for the scanner.  The reel is a great choice for low volume scanning environments or in places where hands need to be completely free of any scanning device. Healthcare delivery or retail would be great examples.
Find more details about the Mark family of wearable barcode scanners here.
https://proglove.s3.eu-central-1.amazonaws.com/wp-content/uploads/2020/03/MARK-Basic-scan-1.png
1502
2000
jennifer
https://proglove.s3.eu-central-1.amazonaws.com/wp-content/uploads/2019/08/proglove-logo.svg
jennifer
2020-04-15 09:05:19
2020-09-12 09:02:51
Barcode Scanning Basics: Make it Wearable