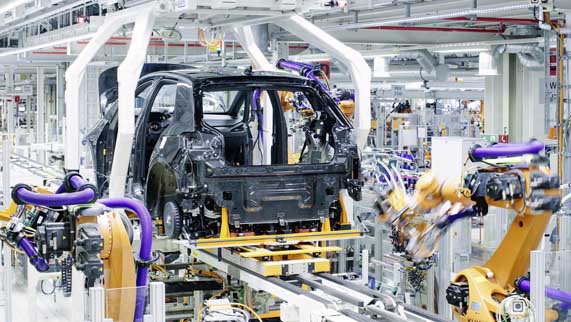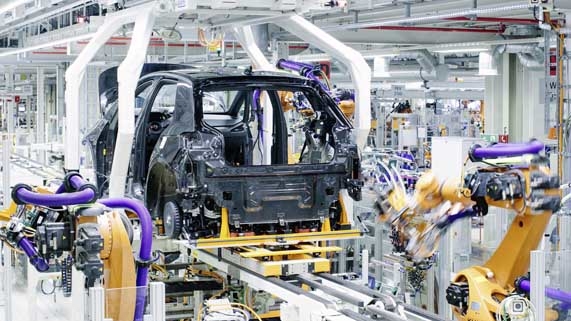 The automotive industry is all about efficiency. Every second counts. This is why ProGlove's MARK family of products became mission critical for many OEMs.
Born in the automotive industry
Paul Gunther is one of ProGlove's founders. He is also the mastermind who recognized the difference a wearable barcode scanner would make for the automotive industry. This goes back some five years when Paul was working at BMW. Today, ProGlove has become a mission critical component within BMW's production processes. ProGlove is saving time and preventing errors in the picking, sequencing, assembly and inbound logistics processes. At the same time, it enhances safety. Because workers can apply a tighter grip and focus better on the job they are working. ProGlove's wearable scanners help improve working conditions while making production and logistics processes more efficient. In short, they simplify work processes and reduce superfluous work steps.
ProGlove fits like a glove at more than 40 Volkswagen sites
Volkswagen is one of the biggest automotive manufacturers in the world. Therefore, millions of picks occur within their aftersales distribution centers and the logistic processes. ProGlove strategically helps the whole Volkswagen group at 40 of its sites to increase efficiency. This includes aftersales logistics, production logistics and assembly processes. All major Volkswagen Group brands work with ProGlove. So, it is fair to say MARK fits like a glove!
Barcode scanning has become an essential activity. Every part of every vehicle is scanned multiple times throughout its journey from inception to delivery. The micro efficiency of saving just four seconds per scan translate into thousands of dollars in cost savings per vehicle.
The automotive industry and the perfect balance between worker and technology
Many automotive organizations are currently looking for ways to strike the perfect balance between human workers and technology. Stefan Mitterdorfer, Head of Logistics Operations, and Volkmar Berger, Project Manager Spare Part Logistics shared their vision for Porsche during the first Smart Factory On Air edition. Their "Logistics 4.0" project focuses on:
Modern and flexible outbound processes through mobile devices such as wearable scanners
Efficient and error-free sorting processes using put-to-light picking
A custom-built warehouse management app with real-time worker navigation
This digitization project met with some uncertainty on the workers' side. So, Stefan and Volkmar addressed this concern. They focused on employee's trust by stressing the tools' usability and intuitiveness. Therefore, they had every stakeholder participate in Change Management workshops early on in the process. This helped to get a simple message across: The aim of this project is to enable workers not to replace them.
Watch the recording of Porsche's keynote at Smart Factory Lab at: https://www.proglove.com/sfl/
https://proglove.s3.eu-central-1.amazonaws.com/wp-content/uploads/2020/01/optimal-process-efficiency.jpg
322
571
axel
https://proglove.s3.eu-central-1.amazonaws.com/wp-content/uploads/2022/12/proglove-new-logo-white.svg
axel
2021-04-29 12:52:48
2021-12-07 20:07:43
Why The Automotive Industry Made ProGlove Mission Critical